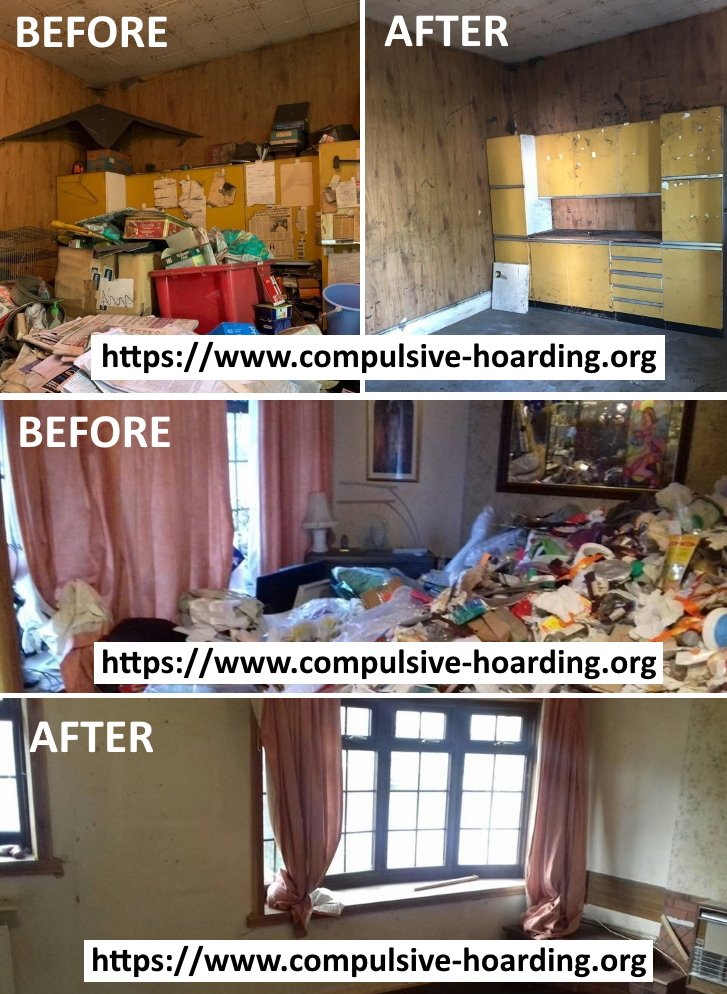 People with clutter (a little or a lot) are turning to professional organizers like the Cluttered House Clearance Company to help them reduce and manage their belongings. While every hoarded house clearance specialist will have a different personality, approach, and qualifications, there are common underlying themes that help us structure our work with clients.

1. Categorize. This means to separate like with like and create boundaries between them. I start nearly every organizing job with this technique. The benefits are: you can see how many of an item you actually have, you can start making decisions about which ones you don't need any more, you can see how much space you need to store and keep the items in good condition.

2. Label. A critical piece to keeping things organized. Labelling may feel a bit childish at first, but think of these benefits: you can find things and put things away easier, other family members can help put things away, you have an immediate visual clue as to how your space is arranged (say kitchen cabinet, for example), and you can start developing new habits and systems more easily. Continued near the bottom of this page.

---

Clearing a hoarder's house? The Cluttered House Clearance Company offer professional compulsive hoarding clearing services in the UK. Specialists in cluttered hoarder house clearance.

Call us now to discuss your situation, let us tell you how our service works.

The Cluttered House Clearance company are fully licensed with the UK environment agency (Environment Agency Waste Carrier License NO #: CBDU284870), we are also members of AFTA.ORG.UK the Anti Fly Tipping Association

I just want to say a huge thank you to the cluttered house clearance specialists who cleared my great aunts extremely cluttered two bedroom town house in Lancaster last week. The team from Cluttered House Clearance have done an outstanding job, they worked really hard from start to finish. My aunt who was a compulsive hoarder in her day hoarded everything from magazines, clothing to bric a brac.

---

3. Create and revise systems. Getting systems in place for things like mail, laundry, and meals is important. Equally, important is tweaking them as you move forward – not to water them down until they don't exist, but to make them work for you. Many 'traditional' organizing techniques and systems do not work for clients with lots of clutter and can set clients up for failure.

4. Find charities and other organizations to take donations. I usually spend a good deal of time researching these options, asking around with the local shopkeepers and neighbours. In my experience, letting go of possessions is easier when the possessions are being put to another use. Local missions and shelters are an excellent option for donations and are usually grateful for them. I even found one who took a few hundred 'singleton' socks!

5. Understand that buying organizing tools won't necessarily make you organized. Professional organizers are knowledge-banks of various tools that help streamline life. However, bins and boxes, for example, don't come with arms to put things inside of themselves! Tools need to be introduced slowly, roughly at the same rate of change that behaviours and habits seem to be changing. I use 'free' items before upgrading to an expensive option. Shoe boxes, for example, are excellent tools to structure new mail systems. If a client is still using them after a few weeks, we can then invest in something more substantial.

6. Start with safe areas. Build up small successes and confidence before tackling more difficult rooms or areas.

7. Be consistent. If you are working with a professional organizer, it's critical to keep him or her around on a consistent basis. That might mean once a week or once a month, depending on your budget. The organizing shows on television lead us to believe that organizing can be done in a few short hours, when in reality this is not the case. Real change takes longer!

---

FREE Hoarded House Clearance Asset Recovery Service…

Our pre house clearance asset recovery service is 100% FREE. If we find NOTHING in the property then we ourselves expect nothing, no charges, no fees. We only get paid if we locate items of value and of course if you ask us to undertake the actual clearance after the search has been completed.

Please take a minute or two to read our page about our FREE Hoarded Houses Clearance Asset Recovery Service.