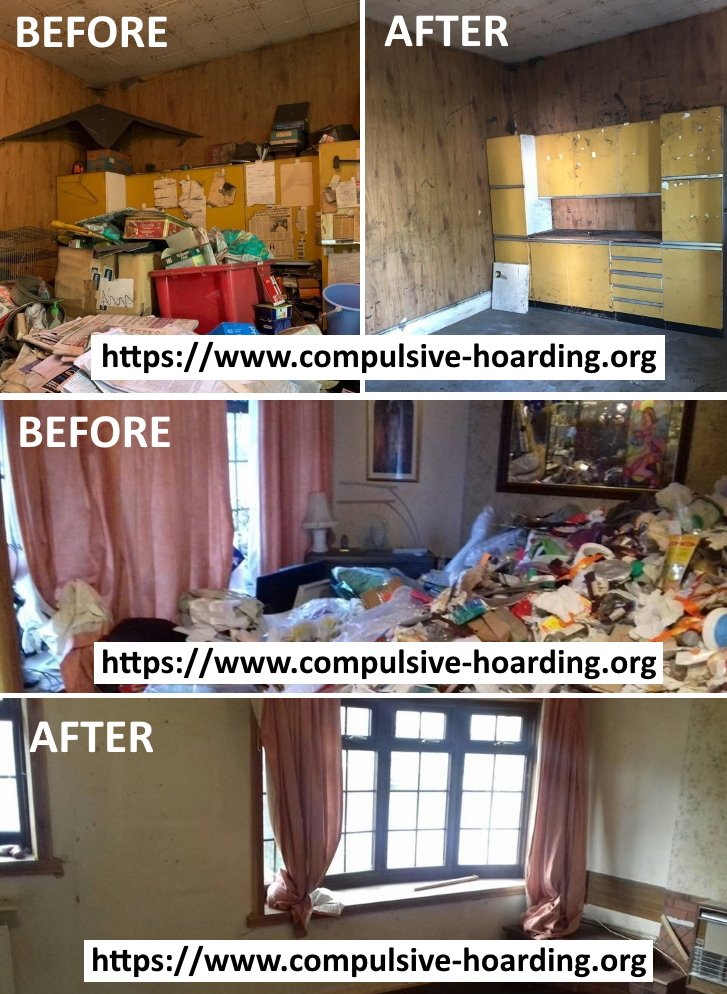 Question: I read that for the children of OCD parents it is important not to "enable." Why is advice so different for children of hoarders? Every doctor I have consulted says NOT to clean up because the OCDer through CBT has to learn to do this for themselves. To clean out my firetrap garage seems as reasonable as moving that object or touching that "contaminated" thing and yet I am advised against it. Is hoarding that different from other OCDs? We have Tiffany from the Cluttered Houses Clearance Company coming to clear the house, it just frustrates me the seeming lack of help out there.

Answer 1: Hoarding is not different from other OCD in the sense that you need to not enable the OCD patient. Not cleaning up after a hoarder is recommended because if you do it the result will be a major emotional crisis for the OCD hoarder and they will not learn that this is a reasonable response. In fact it may worsen the desire to hoard and the vigilance about your touching their stuff. Hoarders have strange beliefs about their stuff and anyone touching it. Enabling would be protecting them from the consequences of the hoarding which is not recommended. When working things like touching the contaminated object we don't drag them over and push them in to it. We get them to do it on their own. Similarly, with hoarding they need to get rid of their own junk. Continued near the bottom of this page.

---

Clearing a hoarder's house? The Cluttered House Clearance Company offer professional compulsive hoarding clearing services in the UK. Specialists in cluttered hoarder house clearance.

Call us now to discuss your situation, let us tell you how our service works.

The Cluttered House Clearance company are fully licensed with the UK environment agency (Environment Agency Waste Carrier License NO #: CBDU284870), we are also members of AFTA.ORG.UK the Anti Fly Tipping Association

I just want to say a huge thank you to the cluttered house clearance specialists who cleared my great aunts extremely cluttered two bedroom town house in Lancaster last week. The team from Cluttered House Clearance have done an outstanding job, they worked really hard from start to finish. My aunt who was a compulsive hoarder in her day hoarded everything from magazines, clothing to bric a brac.

---

Answer 2: I am not sure this "rule" is universally true. Safety hazards should be cleared. I have occasionally had family members clean up places with agreement of the hoarding person. I will send you a chapter on hoarding from our OCD book. It is treated with behavior therapy. Medication is not helpful for hoarding in my experience; although it will help depression that is commonly associated with hoarding for some reason. Best wishes!

---

FREE Hoarded House Clearance Asset Recovery Service…

Our pre house clearance asset recovery service is 100% FREE. If we find NOTHING in the property then we ourselves expect nothing, no charges, no fees. We only get paid if we locate items of value and of course if you ask us to undertake the actual clearance after the search has been completed.

Please take a minute or two to read our page about our FREE Hoarded Houses Clearance Asset Recovery Service.
Related Posts