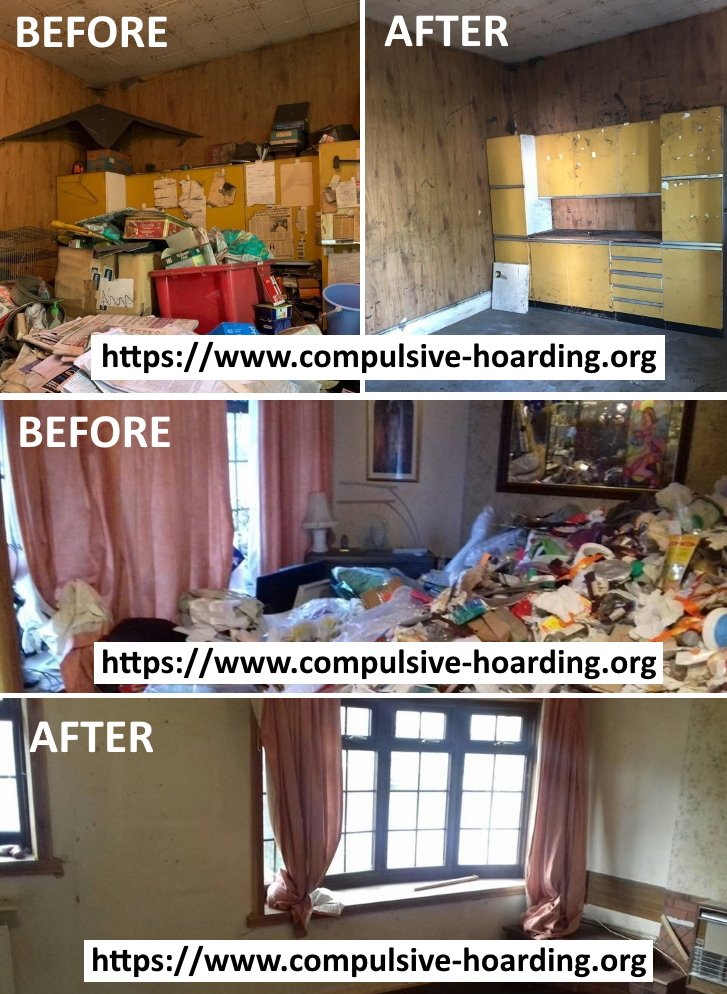 Question: My husband at age 50 has been diagnosed with OCD hoarding. We are at the start of his treatment. He is trying therapy and medications. As the spouse of someone with this, how should I be supportive yet understand that his behavior has taken our family down with him. (We have a garage and basement filled with his collection. He really gets upset if I throw anything away!).

Answer 1: This is a common problem with relatives of OCD sufferers — and a difficult situation for sure. I think that you should ask his therapist what you should and should not do in trying to help. I frequently meet with spouses of patients to coach them in helping their loved one fight OCD. Continued near the bottom of this page.

---

Clearing a hoarder's house? The Cluttered House Clearance Company offer professional compulsive hoarding clearing services in the UK. Specialists in cluttered hoarder house clearance.

Call us now to discuss your situation, let us tell you how our service works.

The Cluttered House Clearance company are fully licensed with the UK environment agency (Environment Agency Waste Carrier License NO #: CBDU284870), we are also members of AFTA.ORG.UK the Anti Fly Tipping Association

I just want to say a huge thank you to the cluttered house clearance specialists who cleared my great aunts extremely cluttered two bedroom town house in Lancaster last week. The team from Cluttered House Clearance have done an outstanding job, they worked really hard from start to finish. My aunt who was a compulsive hoarder in her day hoarded everything from magazines, clothing to bric a brac.

---

Answer 2: Hoarding is characterized by excessive saving and an extreme difficulty in throwing items away. Almost any kind of item imaginable can be saved. Often the sufferer feels he/she needs to go through items thoroughly before discarding them, or that items may have some purpose or practical value and so shouldn't be wasted by throwing them away. Another component of hoarding can also be compulsive shopping. Behavioral therapy involves confronting these beliefs and challenging the saving compulsion by throwing things away. This is often a slow process and the sufferer usually has numerous reasons why items should be brought home and saved. It's likely he's already aware of how his symptoms impact the family. Ultimately, as much as you would like to help, confronting his OCD symptoms is something he will need to face on his own. You certainly have a right to set some limits on the use of space in your home, but if you throw the items he has saved away, it will likely just result in tension between you and not be beneficial to his OCD treatment in the long run. You can support him in his efforts to attend therapy. You may want to think about attending a support group yourself for partners of those with OCD. Occasionally a partner can serve as a coach to help with the behavior therapy tasks. This may or may not be helpful in your situation as it can generate anger and resentment if the help is not welcome and your husband wants to tackle the hoarding at his own pace.

Answer 3: I would not recommend throwing away things for your husband. Since the goal of treatment is to teach hoarders how to discard items on their own, your throwing his things away could interfere with his building the skills he needs to keep from reaccumulating. Also, it's likely to increase your marital discord since he gets angry. You can be most supportive by helping him break down the discarding process into manageable steps. Hopefully, his therapist will generate a de-hoarding plan with him, and you can help by supporting the plan. Good luck.

---

FREE Hoarded House Clearance Asset Recovery Service…

Our pre house clearance asset recovery service is 100% FREE. If we find NOTHING in the property then we ourselves expect nothing, no charges, no fees. We only get paid if we locate items of value and of course if you ask us to undertake the actual clearance after the search has been completed.

Please take a minute or two to read our page about our FREE Hoarded Houses Clearance Asset Recovery Service.
Related Posts