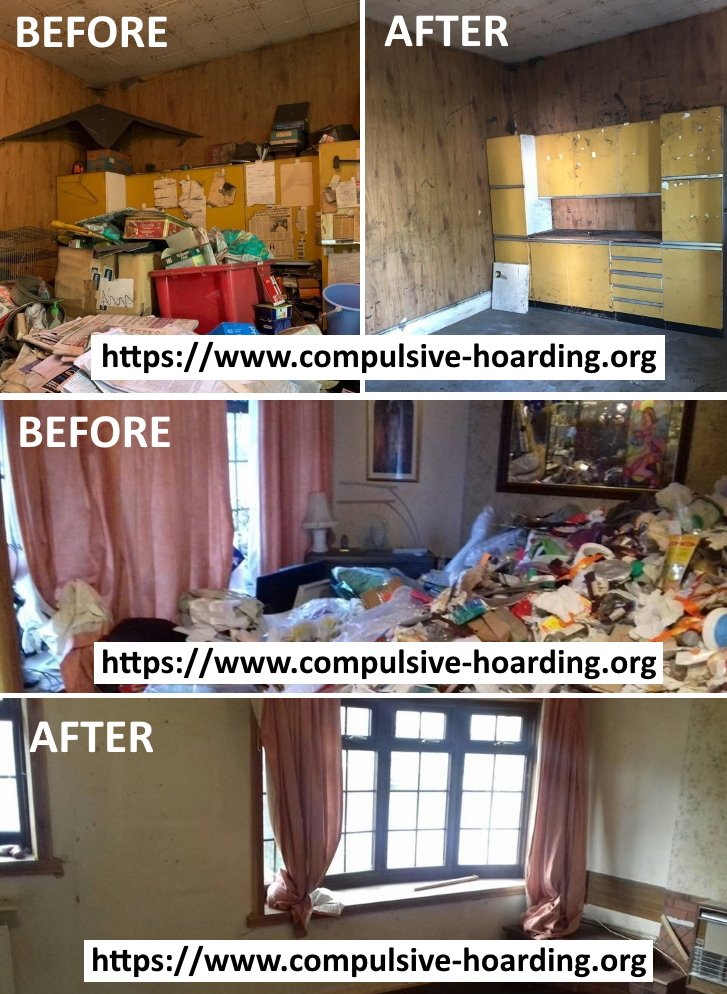 Question: Please advise for supporting family member with OCD hoarding symptoms. The patient is my cousin and a single parent in treatment and on meds for years. Home has become unsafe (doors blocked, etc.), and shame factor for child in home is extreme. She expresses helplessness and anger about addressing symptoms. Her mother was a hoarder for years and I am needing to arrange for the house to be cleared with other family members. We will be using the services of The Cluttered Houses Clearance Company after talking with Tiffany on the phone.

Answer 1: The family member should seek professional help. It may be necessary or desirable to apply to a court for a conservatorship of the affected person on the grounds that he or she is unable to provide adequate food, shelter and clothing for himself because of mental disorder. Or it may be possible for the professional to empower other family members to begin discarding hoarded items gradually (e.g., old newspapers) in order to motivate the affected individual's participation in treatment. Meeting with a professional is the key step. Continued near the bottom of this page.

---

Clearing a hoarder's house? The Cluttered House Clearance Company offer professional compulsive hoarding clearing services in the UK. Specialists in cluttered hoarder house clearance.

Call us now to discuss your situation, let us tell you how our service works.

The Cluttered House Clearance company are fully licensed with the UK environment agency (Environment Agency Waste Carrier License NO #: CBDU284870), we are also members of AFTA.ORG.UK the Anti Fly Tipping Association

I just want to say a huge thank you to the cluttered house clearance specialists who cleared my great aunts extremely cluttered two bedroom town house in Lancaster last week. The team from Cluttered House Clearance have done an outstanding job, they worked really hard from start to finish. My aunt who was a compulsive hoarder in her day hoarded everything from magazines, clothing to bric a brac.

---

Answer 2: A reasonable percentage of people with OCD refuse treatment either in the form of medication or CBT. This is very unfortunate since it is a disorder that responds to treatment. Hoarding in particular is seen as a difficult problem and the treatment ideas are just now being worked out. Although medication may make the individual more able to accept treatment CBT is critical and will require a therapist who is both knowledgeable about OCD and also willing to do things like home visits. The best thing to do at this point is to inform the individual that treatment is available and does work. There is even a small e-mail list devoted to hoarding and if you are interested I will be glad to e-mail you how to find out more about it.

Answer 3: Hi. Getting people who do significant hoarding to agree to treatment is exceedingly difficult if they are not motivated. There are many support groups of people who hoard online.

Medications often help associated depression, but not the actual hoarding behavior that must be dealt with by behavior therapy (often in the home). I will also e-mail you a chapter on hoarding from out OCD book. Best wishes!

---

FREE Hoarded House Clearance Asset Recovery Service…

Our pre house clearance asset recovery service is 100% FREE. If we find NOTHING in the property then we ourselves expect nothing, no charges, no fees. We only get paid if we locate items of value and of course if you ask us to undertake the actual clearance after the search has been completed.

Please take a minute or two to read our page about our FREE Hoarded Houses Clearance Asset Recovery Service.
Related Posts