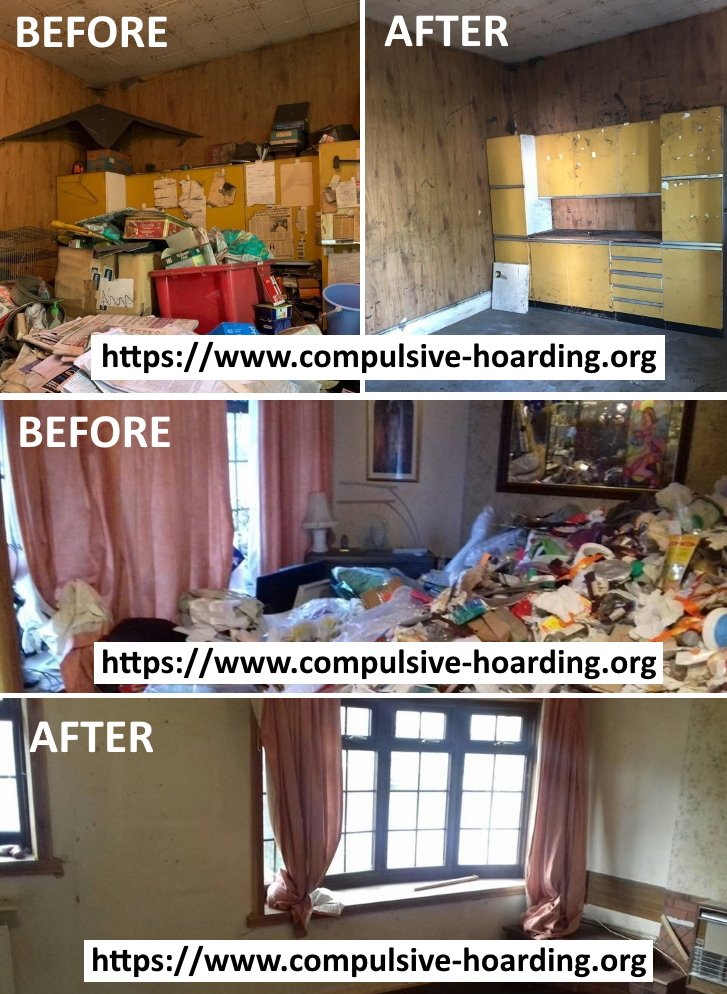 Question: My husband has two big storage units filled with, newspapers, brochures and general junk. He cannot fulfill a task without being distracted, is constantly collecting items. Now he is not working and spends his time in details that prevent him from functioning. He is extremely slow, yet, he is happy, gentle, kind and seems to suffer no stress. Please help!

Answer 1: Sounds like one of his problems is his distractibility and the other is his desire to collect these items, as if they remain important to him. If he is content but you are not, sometimes the only way to get him help is to decide for yourself what you can tolerate and what you cannot. Don't make idle threats, but do let him know what will happen if he does not seek assistance and be sure to find him a good referral person whom you would be willing to see also. This is a complex problem that requires time to treat, usually at least a year or more of steady work, once the person decides that removing clutter is a goal they are willing to work on. Good luck. Continued near the bottom of this page.

---

Clearing a hoarder's house? The Cluttered House Clearance Company offer professional compulsive hoarding clearing services in the UK. Specialists in cluttered hoarder house clearance.

Call us now to discuss your situation, let us tell you how our service works.

The Cluttered House Clearance company are fully licensed with the UK environment agency (Environment Agency Waste Carrier License NO #: CBDU284870), we are also members of AFTA.ORG.UK the Anti Fly Tipping Association

I just want to say a huge thank you to the cluttered house clearance specialists who cleared my great aunts extremely cluttered two bedroom town house in Lancaster last week. The team from Cluttered House Clearance have done an outstanding job, they worked really hard from start to finish. My aunt who was a compulsive hoarder in her day hoarded everything from magazines, clothing to bric a brac.

---

Answer 2: Your husband's behavior may fall into one of two categories – either he has a type of OCD know as hoarding, or else he may have a problem known as Obsessive-Compulsive Personality Disorder. If he is suffering no distress at his own behavior, and seems indifferent to it as you say, he may fall into the latter category. OCPD sufferers don't see their behavior as abnormal. Saving things to excess would be quite natural to some OCPD sufferers, and they really couldn't see themselves not doing it. It is just a part of who they are. OCD sufferers find their behavior distressing and want to stop, but just cannot seem to be able to do so on their own. If your husband were willing, you might take him to someone who specializes in OCD for a consultation, to see just what is going on, and what, if anything, can be done. If it is OCPD, don't expect miracles. Sufferers are not usually very willing to go for treatment, as they don't really believe that they have a particular problem. They only tend to change when great pressure is brought to bear on them, or they stand to lose something important. Best regards.

Answer 3: I am not sure what sort of help you want. You describe your husband as happy. If that means that you see his behavior as a problem, but he doesn't the odds of effective change are small. To change things like OCD (it that is what he has) is difficult and time-consuming.

---

FREE Hoarded House Clearance Asset Recovery Service…

Our pre house clearance asset recovery service is 100% FREE. If we find NOTHING in the property then we ourselves expect nothing, no charges, no fees. We only get paid if we locate items of value and of course if you ask us to undertake the actual clearance after the search has been completed.

Please take a minute or two to read our page about our FREE Hoarded Houses Clearance Asset Recovery Service.
Related Posts