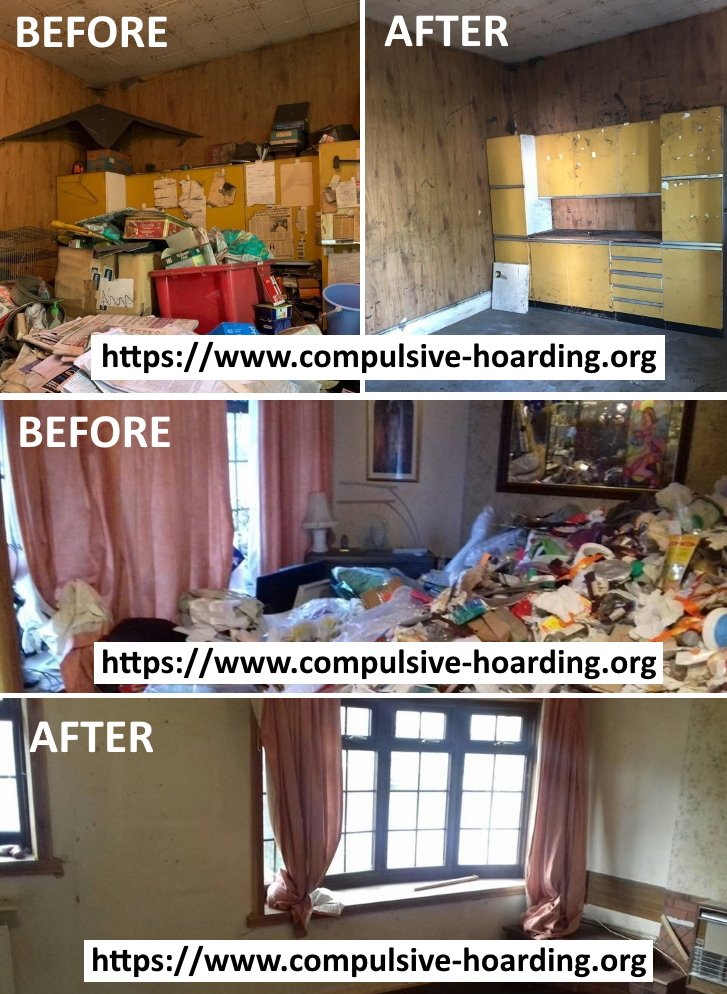 Question: When I was 12, I went through a period of OCD hoarding symptoms. I kept everything from plastic forks to rotting food and on several occasions raided the garbage in the middle of the night. I was not formally diagnosed, but I got better on the advice my parents received that I needed more structure. Now I am 26 and have not suffered from OCD since. What is the likelihood of the symptoms reoccurring? Could my hoarding have been a symptom of another problem or disorder?

Answer 1: Alison, if you haven't had any OCD symptoms since the age of 12, the most likely explanation is that your symptoms at 12 were just normally occurring symptoms not part of any "disorder." I'd say they're unlikely to re-occur since OCD usually starts between childhood and about 18-25 years old. Continued near the bottom of this page.

---

Clearing a hoarder's house? The Cluttered House Clearance Company offer professional compulsive hoarding clearing services in the UK. Specialists in cluttered hoarder house clearance.

Call us now to discuss your situation, let us tell you how our service works.

The Cluttered House Clearance company are fully licensed with the UK environment agency (Environment Agency Waste Carrier License NO #: CBDU284870), we are also members of AFTA.ORG.UK the Anti Fly Tipping Association

I just want to say a huge thank you to the cluttered house clearance specialists who cleared my great aunts extremely cluttered two bedroom town house in Lancaster last week. The team from Cluttered House Clearance have done an outstanding job, they worked really hard from start to finish. My aunt who was a compulsive hoarder in her day hoarded everything from magazines, clothing to bric a brac.

---

Answer 2: OCD is a disorder which often fluctuates in ways that are impossible to predict. The odds are your hoarding was OCD and that for unknown reasons it has become much less of a problem. It is impossible to give the odds of it returning but it is a possibility. It is also possible that OCD would return in an alternative form.

Answer 3: Good question. Remember that the people who walk through our doors are people whose symptoms eventually got worse or at least never got better, so we really don't know how often symptoms get better on their own and never return. Also, it is normal for children to have OCD-like symptoms or games, such as having to say their prayers in just the right order, collecting (hoarding), not stepping on cracks, etc. Your childhood symptoms of hoarding do seem more extreme than my collection of bottle caps, so I'm not saying your behavior was within normal limits. Either it was "normal" or a form of OCD that hasn't returned but might. I don't know of another disorder or condition that might explain it. Good luck.

Answer 4: It sounds as if you either outgrew your symptoms in some way, or else you are in an extended remission. There is really no way to tell at this point, and there are no tests or guides to give us answers. Why OCD may go away in some people is unknown at this time. It is unlikely your hoarding was a symptom of another disorder, as it is mostly only seen outside of OCD in thought disorders (Schizophrenia), retardation, and those who are senile. Best regards.

---

FREE Hoarded House Clearance Asset Recovery Service…

Our pre house clearance asset recovery service is 100% FREE. If we find NOTHING in the property then we ourselves expect nothing, no charges, no fees. We only get paid if we locate items of value and of course if you ask us to undertake the actual clearance after the search has been completed.

Please take a minute or two to read our page about our FREE Hoarded Houses Clearance Asset Recovery Service.
Related Posts