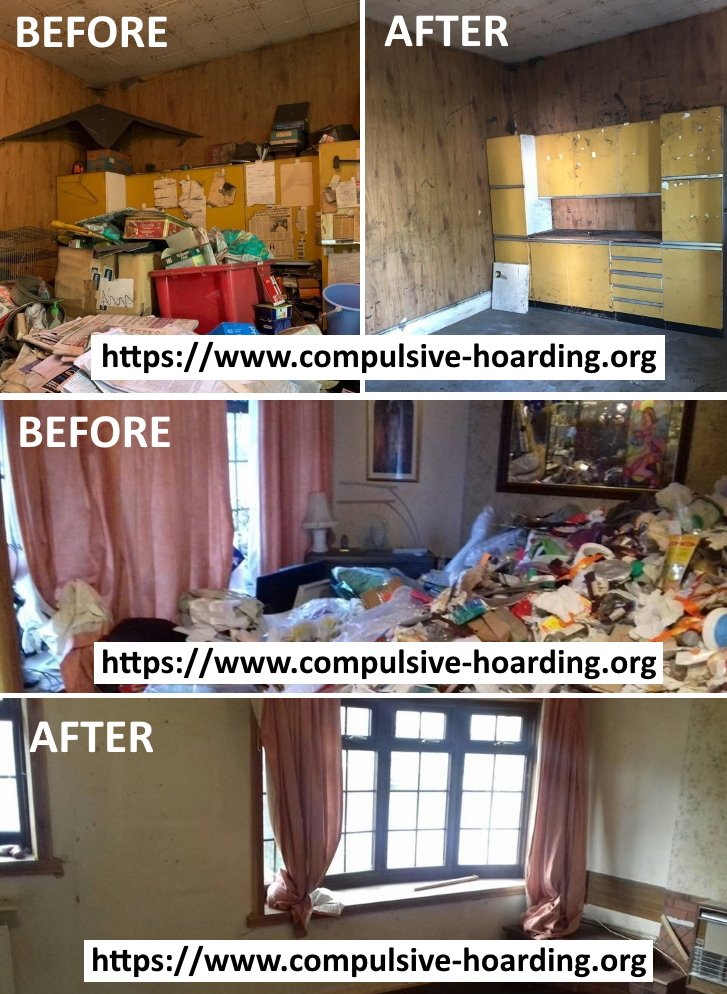 Question: I have heard it said that the extreme collection of live animals, such as the cliche about the "little old lady with her 50 cats," is a form of Hoarding OCD. Can anyone address this idea? A relative of mine does this.

Answer 1: The accumulation of large numbers of cats or less commonly dogs may represent a form of hoarding which in turn is usually part of OCD. Hoarding can occur in other disorders and even when it occurs in the context of OCD it seems somewhat different from other forms of OCD. If your relative seems to fit the cliche of "the little old lady with 50 cats" there is a good chance she has OCD. Hoarding in general is a difficult form of the disorder to treat often because the person with the problem is very unmotivated to do anything. Continued near the bottom of this page.

---

Clearing a hoarder's house? The Cluttered House Clearance Company offer professional compulsive hoarding clearing services in the UK. Specialists in cluttered hoarder house clearance.

Call us now to discuss your situation, let us tell you how our service works.

The Cluttered House Clearance company are fully licensed with the UK environment agency (Environment Agency Waste Carrier License NO #: CBDU284870), we are also members of AFTA.ORG.UK the Anti Fly Tipping Association

I just want to say a huge thank you to the cluttered house clearance specialists who cleared my great aunts extremely cluttered two bedroom town house in Lancaster last week. The team from Cluttered House Clearance have done an outstanding job, they worked really hard from start to finish. My aunt who was a compulsive hoarder in her day hoarded everything from magazines, clothing to bric a brac.

---

Answer 2: There can be quite a variety of reasons why people hoard things, OCD being only one of them. It is likely that a percentage of people who hoard animals do have true OCD, but it would take a good clinical evaluation to determine if this were so for a particular individual. In any case, I think that people who collect great numbers of animals can often risk the health of the animals and themselves, and in such cases certainly need help. Best regards.

---

FREE Hoarded House Clearance Asset Recovery Service…

Our pre house clearance asset recovery service is 100% FREE. If we find NOTHING in the property then we ourselves expect nothing, no charges, no fees. We only get paid if we locate items of value and of course if you ask us to undertake the actual clearance after the search has been completed.

Please take a minute or two to read our page about our FREE Hoarded Houses Clearance Asset Recovery Service.
Related Posts