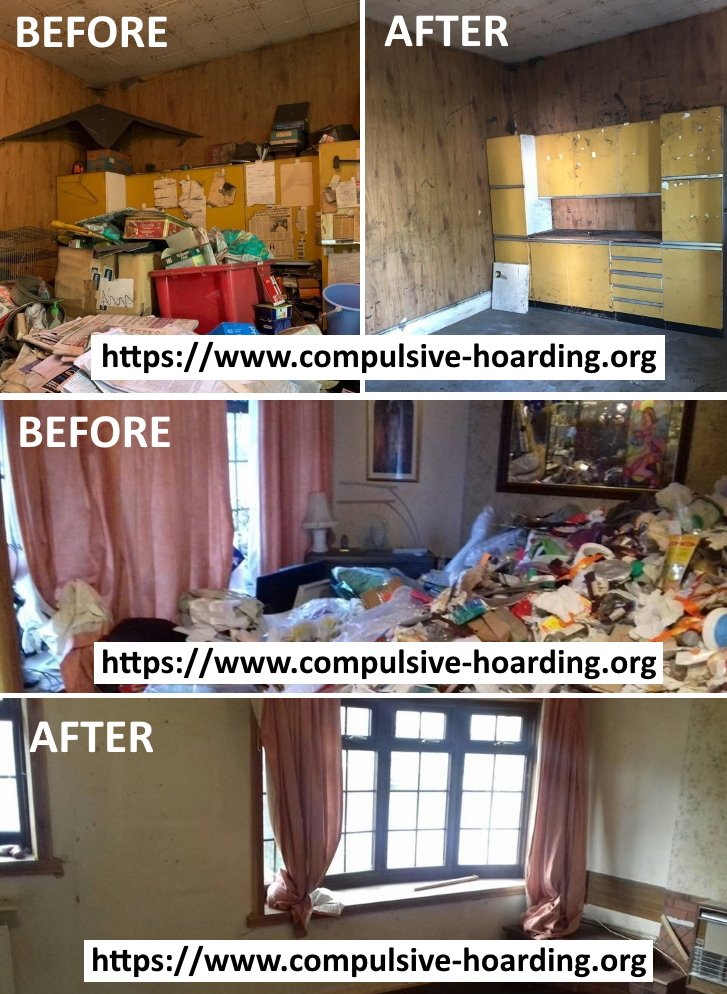 Hoarded House Clearance Case Study In Northampton:

Good afternoon,

I have a friend who is suffering with compulsive hoarding, she has recently confided in me and asked for my help to get her home back to a livable state.

I have never visited her home before until now and couldn't believe the way she has been living for so long. The house is on a farm and has four bedrooms with an attached double garage and out house.

She has had a lot of dogs in the past causing a stench throughout her home, these have been removed, and she won't be getting them back. She will be living with me during the process of having her home cleared, once that is done I will help her redecorate and refurnish ready for her to move back into.

She will be moving in with me next Sunday and will have removed everything she wants to keep by then. We need your specialists to go into her home and completely clear it of everything, all carpets, furniture, appliances, rubbish, clutter, junk etc, everything.

The garage and out building is where she began hoarding first, I haven't been able to look in them as they are that full, she says they are filled with tools, furniture, boxes of ornaments, clothes etc, everything is to be cleared from these too.

In the surrounding garden, there is a large amount of broken furniture, bags of rubbish, old appliances etc, will it be possible to have these removed too?

The house is situated in Northampton.

I hope you can help with this situation, Angela.

Continued near the bottom of this page.
---
Clearing a hoarder's house?

The Cluttered House Clearance Company offer professional compulsive hoarding clearing services in the UK. Specialists in cluttered hoarder house clearance.

Call us now to discuss your situation, let us tell you how our service works.

The Cluttered House Clearance company are fully licensed with the UK environment agency (Environment Agency Waste Carrier License NO #: CBDU284870), we are also members of AFTA.ORG.UK the Anti Fly Tipping Association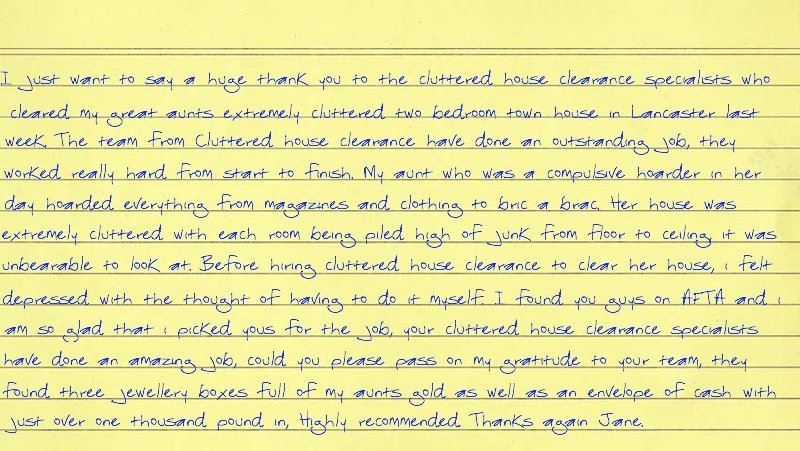 I just want to say a huge thank you to the cluttered house clearance specialists who cleared my great aunts extremely cluttered two bedroom town house in Lancaster last week. The team from Cluttered House Clearance have done an outstanding job, they worked really hard from start to finish. My aunt who was a compulsive hoarder in her day hoarded everything from magazines, clothing to bric a brac.

---

Hoarded House Clearance Case Study In Northampton Continued:

We agreed that it would take three days with a team of five of our hoarded house clearance specialists. On the first day, the team began with clearing the double garage, out building and garden.

A large amount of tools, garden tools, ornaments, some small furniture and boxes of clothing were salvaged from the garage and out building for charity.

The garden had broken appliances, furniture, rubbish, broken lawn mowers etc, all this had to be took to recycling. Once the outside of the property was clear, the team began with clearing the hallway in order to access the other rooms.

It took an hour to clear the hallway of mountains of compressed rubbish and dirt that had built up for many years. Once the hallway was clear, the team moved onto clearing the office, bathroom, kitchen and sun room.

Most of the furniture and appliances were broken or had wood worm, some crockery, ornaments and books were salvaged for charity, the rest had to be recycled accordingly.

On the second day, the team cleared the living room, two of the bedrooms and three storage cupboards.

The living room was the worst of the rooms, it was large with a mountain of rubbish and waste that piled to the knees, a large piano had to be removed along with approximately 20 dog cages that contained waste, nothing from this room could be salvaged.

The bedrooms were fairly organised clutter with the basic amount of furniture, including two pine wardrobes, two pine beds, bedside cabinets, a dressing table, a shelving unit and a large chest of drawers which we were able to donate, along with clothing, books, ornaments and bedding.

On the third day, the team finished up by clearing the last two bedrooms, both had been used as storage rooms, contains boxes of old ornaments, crockery, kitchen were, Christmas decorations, clothes, paperwork etc, underneath the boxes was a small amount of furniture, we managed to donate quite a lot to charity from these rooms and the rest went to recycling.

Angela's friend is now able to have a fresh start once they re decorate and furnish her property again so that it feels like a home.

---

FREE Hoarded House Clearance Asset Recovery Service…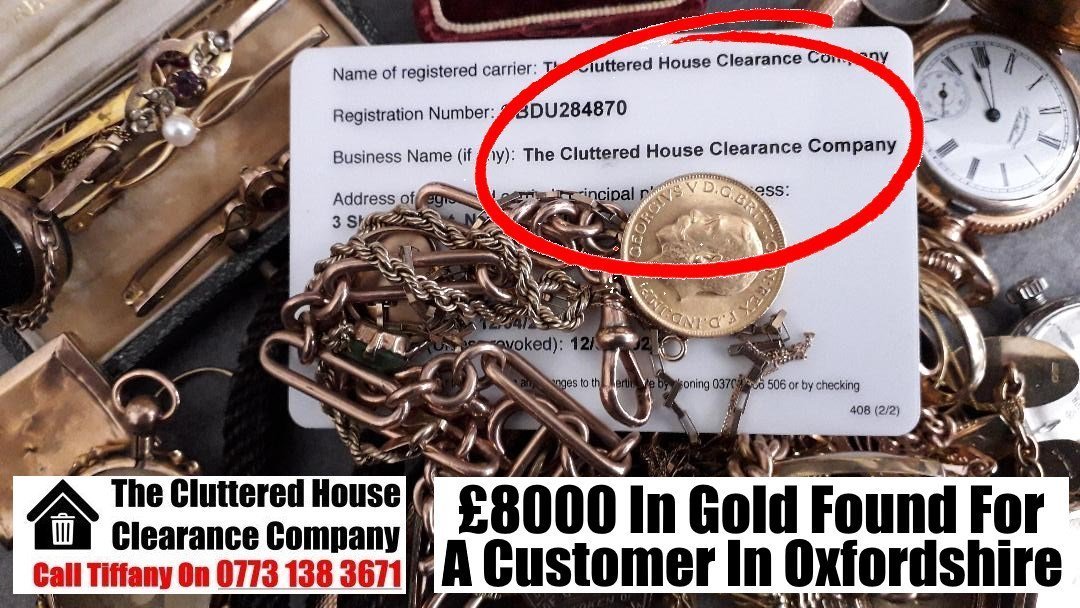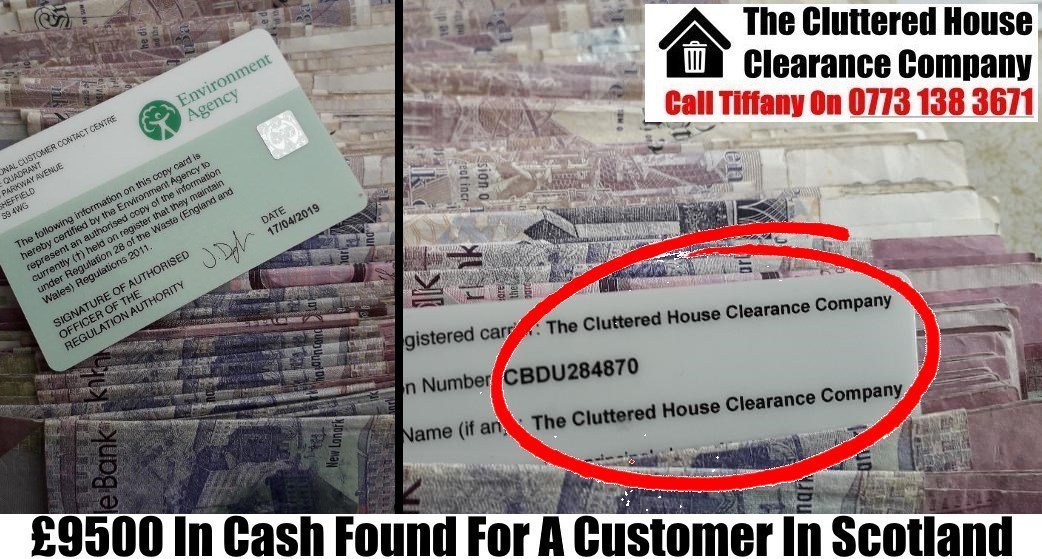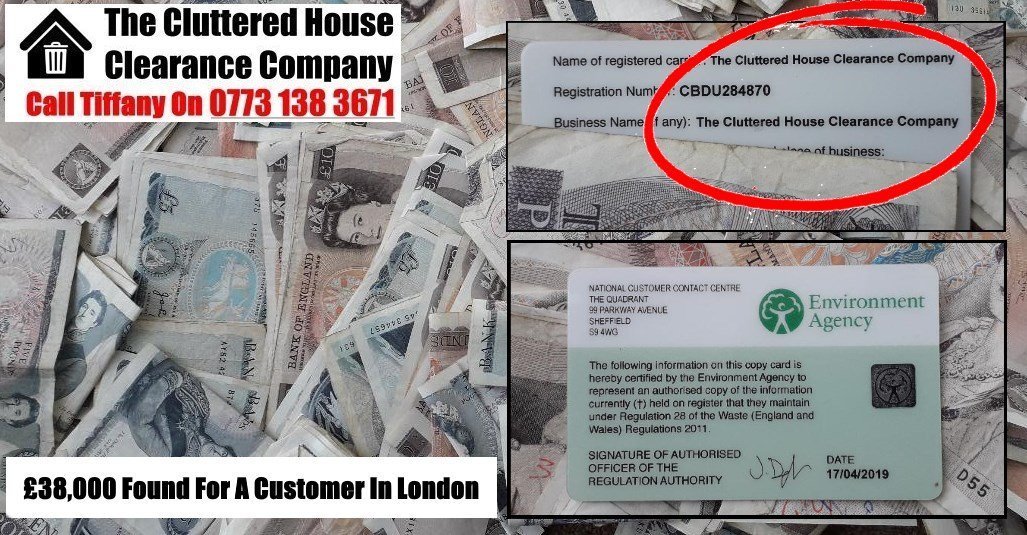 Our pre house clearance asset recovery service is 100% FREE. If we find NOTHING in the property then we ourselves expect nothing, no charges, no fees. We only get paid if we locate items of value and of course if you ask us to undertake the actual clearance after the search has been completed.

Please take a minute or two to read our page about our FREE Hoarded Houses Clearance Asset Recovery Service.
Related Posts