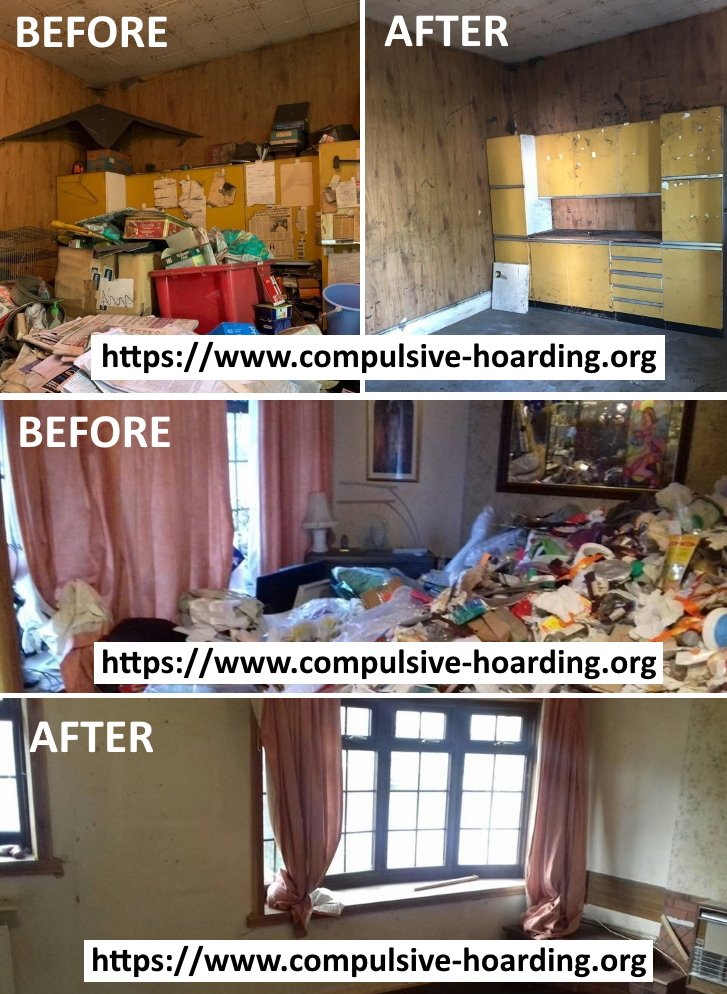 Hoarded House Clearance Case Study In Peterborough:

Hi I am looking for a quote to have my mums six bedroom house cleared in Peterborough.

My mom was a hoarder 100%, she raised 8 children on her own (me being the second youngest) we lived in the property since I was born and before that.

Unfortunately whatever triggered my mom to hoard has been something since I was just a toddler.

Over the years my family had given up on helping my mum with her hoarding problem, because every year they offered their help, and within a couple of weeks my mum turned the house back to the way it was. However, it has got to the point where there's no electric on the bottom floor due to the extreme amount of clutter.

My mum has now sadly passed away, in order to sell our family home or potentially move in, we need to arrange to have the whole place completely cleared of all clutter, furniture, appliances etc.

Every room in the house is completely filled with junk, among the clutter and rubbish is probably a few hidden valuables, I would appreciate if you could find family photographs for me, and anything valuable that you may come across. Many thanks, Lauren.

Continued near the bottom of this page.
---
Clearing a hoarder's house?

The Cluttered House Clearance Company offer professional compulsive hoarding clearing services in the UK. Specialists in cluttered hoarder house clearance.

Call us now to discuss your situation, let us tell you how our service works.

The Cluttered House Clearance company are fully licensed with the UK environment agency (Environment Agency Waste Carrier License NO #: CBDU284870), we are also members of AFTA.ORG.UK the Anti Fly Tipping Association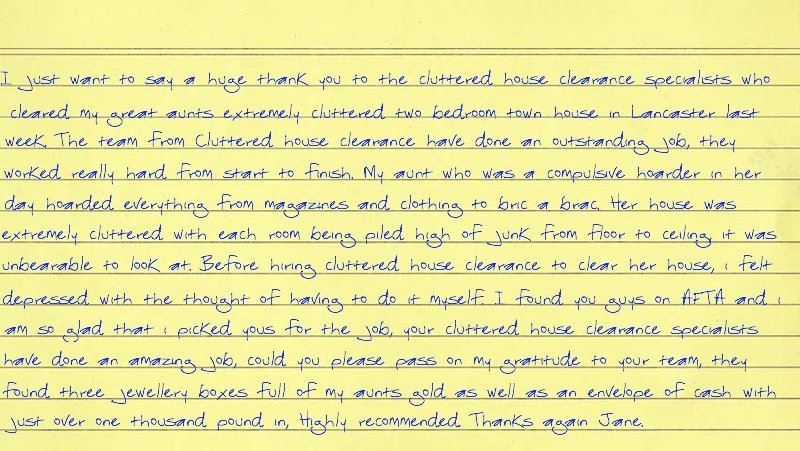 I just want to say a huge thank you to the cluttered house clearance specialists who cleared my great aunts extremely cluttered two bedroom town house in Lancaster last week. The team from Cluttered House Clearance have done an outstanding job, they worked really hard from start to finish. My aunt who was a compulsive hoarder in her day hoarded everything from magazines, clothing to bric a brac.

---

Hoarded House Clearance Case Study In Peterborough Continued:

We arranged with Laura to send a team of six specialists over the course of three days to completely clear her late mums home.

We met Laura at the property on the first day at 9am, she showed our team around and gave us the keys, she returned once the property was clear.

Our team split up into three teams of two working on the ground floor first.

It took a whole day to completely clear the ground floor, including two lounges, a kitchen, a games room, a dining room, a pantry, a conservatory, and three storage cupboards, all carpets were cleared too.

Once one room was completely empty, our team boxed up any valuables, photographs, and paperwork that Laura may want, and placed the boxes into the empty room. Laura went through these at the end of the clearance.

Due to having no electricity on the ground floor, most of the furniture became cold and damp, this all had to be recycled, the kitchen gave off a bad stench due to the fridge and freezer being switched off, and there was a mice infestation.

On the second day, the team moved onto clearing the second floor, there was two bathrooms, four bedrooms, and two storage cupboards.

The team managed to clear three of the bedrooms, the two bathrooms and the storage cupboards, placing all valuables into the downstairs room as they went.

Most of the clutter consisted of magazines, empty boxes, books, clothing and bedding, the rooms that were once bedrooms have been used as storage rooms overtime, all carpets were removed too.

On the third day, the team managed to finish the clearance by clearing the final bedroom on the second floor, they moved onto the top floor which was a converted loft of two bedrooms, one was used as a crafts room, whilst the other was filled with boxes containing ornaments, books etc, underneath was rotted furniture.

Laura returned to the property on the final day, our team showed her around the now completely empty house, and showed her a large pile of boxes containing her mums jewellery, some antiques, family photographs and paperwork.

Laura was over the moon with the final outcome.

---

FREE Hoarded House Clearance Asset Recovery Service…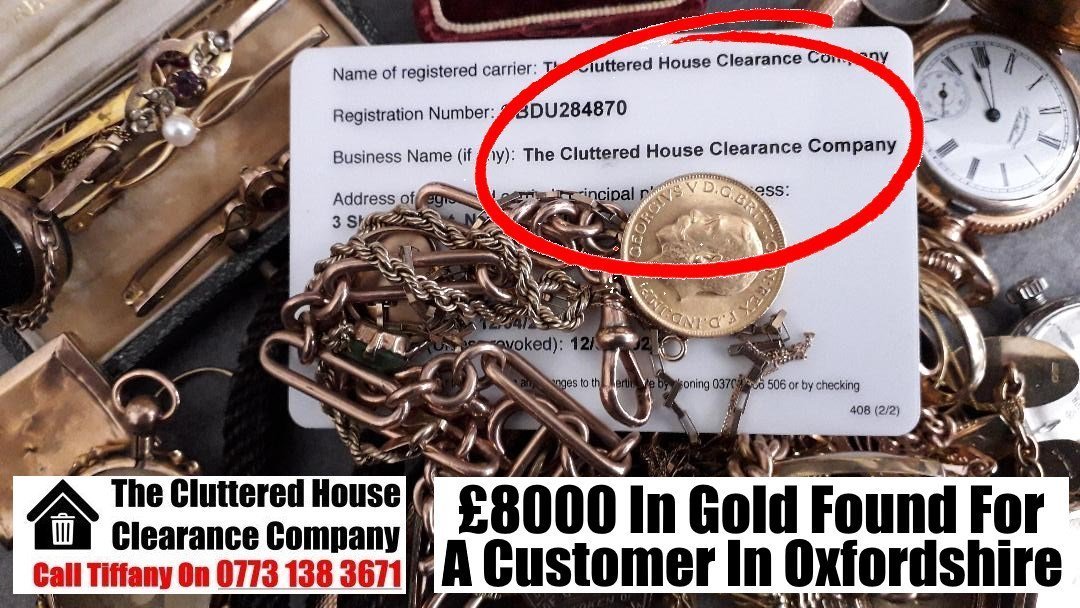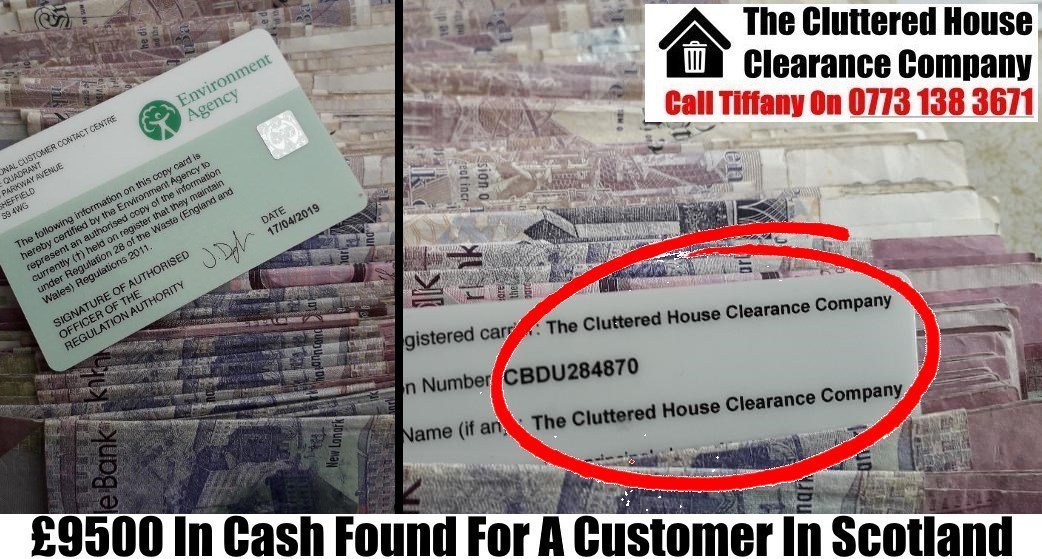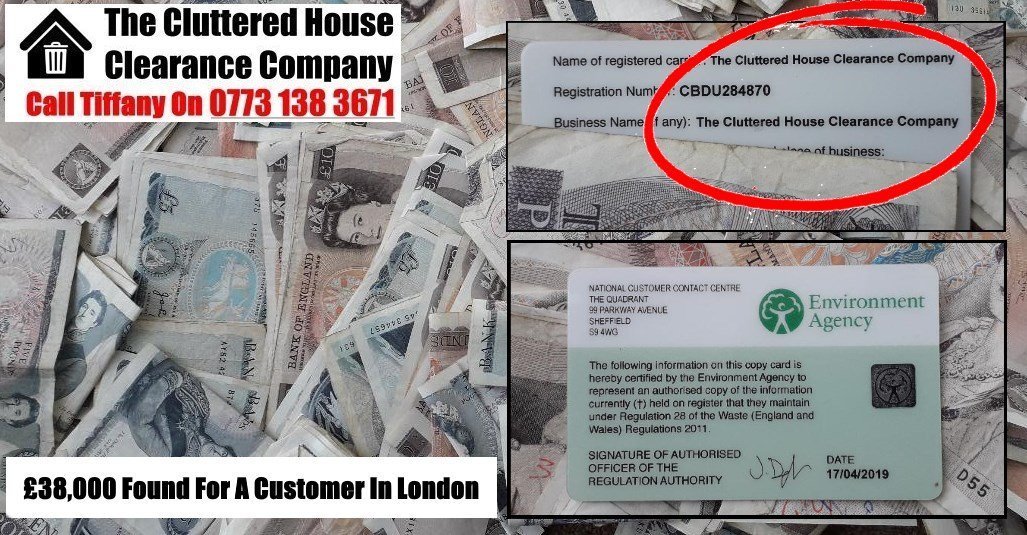 Our pre house clearance asset recovery service is 100% FREE. If we find NOTHING in the property then we ourselves expect nothing, no charges, no fees. We only get paid if we locate items of value and of course if you ask us to undertake the actual clearance after the search has been completed.

Please take a minute or two to read our page about our FREE Hoarded Houses Clearance Asset Recovery Service.
Related Posts